White Spruce Tree, Pencil
White Spruce Tree, Pencil
Slim profile
Iridescent white tree (mother of pearl)
5 year light warranty on the Dura-lit version
3 year light warranty on the LED M5 version
Learn More
Why This Christmas Tree?
Slim profile
Iridescent white tree (mother of pearl)
5 year light warranty on the Dura-lit version
3 year light warranty on the LED M5 version
Description
Your treasured ornaments stand out on this iridescent white tree with graceful, tapered needles. The iridescent needles give a mother of pearl quality when it is illuminated. The iridescent look is created using a mixture of white and cellophane needles. The iridescent tree will keep its original color longer than a pure white tree.
The full version provides greater space for ornaments.
Warranty
Light Strand: (trees with lights)
Dura-Lit Incandescent = 5 year/5,000 hour
1st year: Manufacturer replaces section at its expense
Years 2-5: Customer ships section to Vickerman, Vickerman pays to ship back.
Warranty on strands not bulbs
Normal seasonal usage
Tree
: The tree is covered by a 10 year structural defect warranty.
Our View
The slim version is not as dense as the full version because the branches are not as long to cover the center pole.
While pure white trees are pretty, we prefer the iridescent tree because it retains the original color longer than a pure white tree.
Setup
The tree comes in sections, each section has branches permanently attached using "hinges". As an example the 7.5' tree comes in 3 sections plus a stand. The video below shows the Williamsburg Pine being assembled. The White Spurce assembles in the same manner.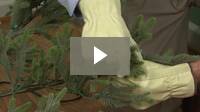 Details
| | |
| --- | --- |
| Ornaments: | This tree has wire to the tip of every branch so it will support heavier ornaments.  |
| Stand: | Sturdy metal stand is included. The listed height includes the stand |
| Branch Tips: | The green branches are covered with white flock. |
| Branch Construction: | The branch needle PVC.  |
| Construction: | The branches are permanently attached to the center pole using hinges. Center pole disassembles (with branches attached) for storage purposes. |
| Usage: | Indoor Only |
| Shipping: | Free Shipping via UPS Ground to 48 contiguous United States. We do not ship outside of the 48 contiguous states. |